MONSTERS 2010 LINE-UP: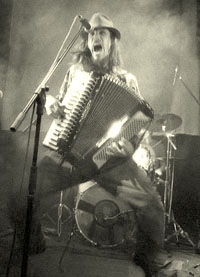 JASON WEBLEY
Seattle, WA
Street performer turned cult musician, Jason Webley has been carrying his squeezebox to the far corners of the earth since 1998. Known for his huge gravelly voice and a battered porkpie hat that dances around his head as he stomps out the beat, Webley's relentless touring schedule and legendary live performances have built him a loyal fanbase across North America, Europe and beyond (he is especially loved in Siberia.) Webley's specialty is involving his audience in his performances - most concerts end with the entire crowd locked arm-in-arm, singing at the top of their lungs. Recently, Webley finished a world tour with Amanda Palmer of The Dresden Dolls as one-half of the duo Evelyn Evelyn.
VIDEO: Jason Webley playing live.
"One of Seattle's most talented musicians, a singer-songwriter with a rare gift for crafting timeless songs that approach Waits and Leonard Cohen territory." -The Seattle Times

Jason Webley Homepage | Jason Webley on Myspace


CORN MO - New York, NY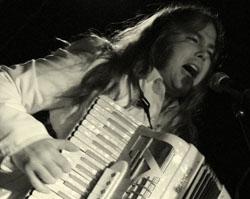 New York City's Corn Mo plays a mixture of glam-rock and circus music which Rolling Stone has described as "the future of rock". With a powerful voice that rivals Freddie Mercury, Corn Mo has toured the country with the Bindlestiff Family Cirkus, The Polyphonic Spree, They Might Be Giants and Ben Folds (he gave Folds a CD in an airport which was the beginning of a friendship.) He has written six albums and the rock opera Alice Wakeman which debuted in 2009 at New York's Ars Nova Theater. In addition to his epic accordion performances, Corn Mo is an accomplished pianist, short story writer and lead singer in the band .357 Lover.
VIDEO: Corn Mo on the Jimmy Kimmel show.

"Corn Mo has one of the most beautiful voices and natural charms
I've ever experienced." - Andrew W.K.

"Corn Mo is the future of rock." -Kirk Miller, Rolling Stone

Corn Mo Homepage | Corn Mo on Myspace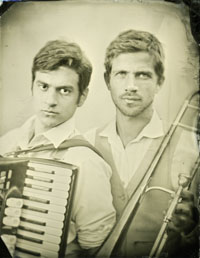 THE PETROJVIC BLASTING COMPANY
Los Angeles, CA
Originally from Nashville, The Petrojvic Blasting Company are one of the most talked about rising stars in the LA scene. Founded by brothers Josh and Justin Petrojvic, The Blasting Company have travelled across North America and Europe in a variety of configurations with their accordions, trombones and foot-drums. Recently, the brothers returned from a pilgrimage to Eastern Europe, where they shared the stage with some of ex-Yugoslavia's best musicians and performed everywhere from the streets of Belgrade to an ancient Roman Coliseum.
VIDEO: The Blasting Company on the streets of LA.

"An absolutely amazing band." -Sgt. Kris Werner, LAPD

Blasting Company Homepage | The Blasting Company on Myspace


RENÉE DE LA PRADE - San Francisco, CA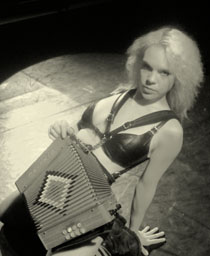 Pink-haired accordion pin-up goddess Renée de la Prade comes armed with a low-slung button box and a funky fusion of old Celtic melodies, zydeco and punk rock power. De la Prade adds her boot stomping and squeezebox fire to Bay Area groups Culann's Hounds and Whiskey and Women. In 2008, she began publishing the annual Accordion Babes Pin-Up Calendar which has sold tens of thousands of copies and features players from around the world. When not on stage or hanging on your wall, de la Prade works as an accordion teacher and repair specialist at Smythe's Accordion Center in Oakland.

VIDEO: Renée de la Prade performing for some nuns.
"Not only does De La Prade play the accordion like she was trying to make it catch fire, she has a certain knack for combining apparel." -North Bay Bohemian

Squeezebox Goddess Homepage | Renee on Myspace


SPECIAL GUESTS:
AMY DENIO - Seattle, WA
Amy Denio is composer and multi-instrumentalist known world-wide for her unconventional songwriting, and incredible musicianship. She has worked with countless artists, including Bill Frisell, Danny Barnes, Pat Graney Dance Company and even Chuck D. With a catalog of more than 35 CDs to her name, Denio has performed in venues from Carnegie Hall to the Metro buses in downtown Seattle. In addition to her solo work, Denio also plays with the Tipton Saxophone Quartet, Quintetto alla Busara and her all accordion ensemble, Hell's Bellows.
Amy Denio Homepage | Amy Denio on Myspace
ERIC STERN - Portland, OR
A premiere operatic tenor, accordionist, composer and showman, Eric Stern is the bandleader and primary composer of Portland's absurdist cabaret ensemble Vagabond Opera. Son of an accomplished Gaullic accordionist, he is adept at countless styles, at times performing on a specially-tuned quarter tone Arabic instrument. A trained opera singer, Stern has appeared in over 30 operas, including leading roles in La Boheme and Carmen.
Vagabond Opera Homepage | Eric Stern Homepage
AEON NOW! - Eugene, OR
Aeon Now has been watching the clock since July 2009. A dreampunk brigade consisting of accordion, drums, washboard, and a trombone, they are wordsmiths, seamstresses and puppeteers that spin stories through gritty theatrical songs.
Aeon Now Homepage
DUCKMANDU - San Francisco, CA
With virtuosic technical skill, Duckmandu (aka Aaron Seeman) performs a repertoire including (but not limited to) 70's rock, Broadway, klezmer, classical, country, Sousa marches and even a polka or two. However, his specialty is alarmingly accurate accordion recreations of classic punk songs. His 2005 release, Fresh Duck for Rotting Accordionists is a note-for-note re-make of the entire first Dead Kennedys album. Seeman also plays with Shamalamacord and composes for San Francisco's Punk Rock Orchestra.
Duckmandu Homepage | Duckmandu on Myspace
DORIAN WOOD - Los Angeles, CA
With a powerful, soul-rattling voice, and a songwriting style that marries troubadour balladry with the avant-garde, Dorian Wood has held audiences captive on street corners and concert halls throughout the US, Mexico and Europe. A member of the Los Angeles experimental orchestra Killsonic, Wood is releasing his much-anticipated third studio recording, Rattle Rattle, in early 2011.
Dorian Wood Homepage


For more information, please write: